By Jenna Shaw

Our Favourite Gluten Free Recipes
Are you living a healthy gluten free lifestyle? We just wanted to share with you two of our favorite xanthan gum substitute recipes that use Guar Gum. Both recipes are gluten free and have a yummy factor of 5/5.
Gluten Free Apple Muffins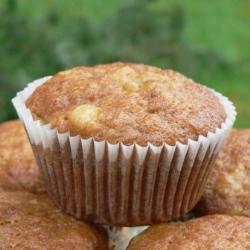 Ingredients
1 cup brown rice flour
½ cup arrowroot powder
½ cup almonds
½ cup grounded flax seed
½ cup ground oats
1 tsp guar gum
1 tsp baking soda
1 ½ tsps baking powder
¾ teaspoon cream of tartar
1 tbsp cinnamon
2 tsps vanilla
½ cup coconut oil
½ cup almond milk
½ cup white sugar
½ cup brown sugar
2 eggs
3 cups apples
1 oz grounded chia seeds
½ cup water
Directions
1. In a small bowl mix ground chia with 1/2 cup water till they gel then set aside.
2. In a medium bowl mix dry ingredients well and set aside.
3. In a large bowl, soften coconut oil in microwave for a minute on high then beat in sugars, eggs, almond milk, chia gel and vanilla. Stir into dry ingredients and let sit for 30 minutes to allow the gum to activate.
4. Fold in grated apple and distribute in muffin tins.
5. Bake in a 350 degree oven for 15 to 25 minutes, until a toothpick inserted in centre comes out clean.
Gluten Free Banana Bread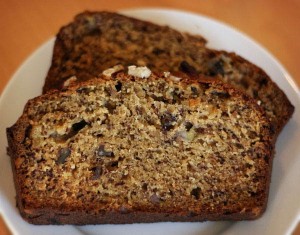 Ingredients
2 ripe bananas
1 egg
½ cup light brown sugar
¼ cup oil
½ cup milk
½ tsp vanilla essence
½ cup potato starch
2 cup cornstarch
4 tsps baking powder
1 tsp guar gum
¼ tsp baking soda
1 tsp grounded coriander
¼ tsp salt
Directions
1. Preheat oven to 350F degrees.
2. In a large bowl, mash bananas well.
3. Add egg, light brown sugar, oil, milk and vanilla flavoring.
4. Mix well.
5. Add potato starch, cornstarch, baking powder, guar gum or xanthan gum, baking soda, salt, and coriander; mix well.
6. Batter will be thin.
7. Pour into greased 9 x 4 loaf pan.
8. Bake approximately 40 minutes, until toothpick inserted in middle tests clean.
9. Allow to cool briefly before removing from pan.
10. Refrigerate or freeze extra servings.
11. Keep covered to prevent drying out.
Gluten Free Recipes
Do you have a favourite gluten free recipe to share? Comment below with your favourite gluten free recipe or gluten free experience. We would love to hear from you!