Gluten Free Pancake Recipe
By Jenna Shaw

Gluten Free Pancake Recipe with Banana
Pancakes have been around since the Ancient Greeks back in the 5th Centry BC and there are thousands and thousands of pancake recipe variations that differ worldwide from Europe, Africa, Asia, America, and the Pacific Ocean.
Most pancake recipes are made from flour or a blend of grains such as buckwheat. Most gluten free pancake recipes use xanthan gum and although it is safe to use, people with a allergy to corn wheat or soy may want to use an alternative such as guar gum. You can read about the many different types of xanthan gum substitutes available here.
Pancakes are easy to make and are often seen as a weekend treat that brings the family together for a weekend brunch or breakfast. Many have their own favorite recipe that has been modified and tweaked to perfection. Check out this great gluten free banana pancake recipe we have for you.
Gluten Free Pancake Recipe Ingredients
1 cup brown rice flour
3 tbsps tapioca flour
1/3 cup potato starch
1 tbsp brown sugar
1 ½ tsps gluten-free baking powder
½ tsp baking soda
½ tsp salt
½ tsp guar gum
2 eggs
3 tbsps canola oil
1 cup water
1 cup coconut milk
1 ¼ banana
½ tsp vanilla
Gluten Free Pancake Recipe Directions
STEP 1:
In a bowl, mix or sift together the rice flour, tapioca flour, potato starch, sugar, baking powder, baking soda, salt, and guar gum. Stir in eggs, water, coconut milk, vanilla, canola oil and mashed banana until well blended and few lumps remain.
STEP 2:
Chop and mash the bananas. Stir in the mashed chopped banana.
TIP: Try using a zip-lock bag for hassle free mashed bananas. Place the bananas inside the zip-lock bag, seal the bag and begin mashing. Once mashed you can easily cut a corner of the bag and use it as a pouring spout.
STEP 3:
Heat a large, well oiled skillet or griddle over medium high heat. Spoon batter onto skillet and cook until bubbles begin to form. Flip, and continue cooking until golden brown on bottom. Serve with your favorite choice of topping.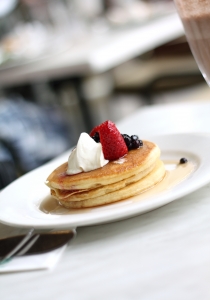 Adding fruit and vegetable toppings such as berries to your gluten free pancake recipe is a great way to increase the vitamin and mineral content as well as adding flavor to your pancakes. Bananas are great to eat with pancakes and have a high potassium content. Although it can be very hard to resist the temptation of yummy pancake syrup, try to avoid large quantities of syrup when consuming pancakes as too much will make you feel sick and unhealthy.
I have tried out many gluten free recipes and most have turned out to be a pile of goo that I have to throw out. This recipe worked wonders for me and I hope it works as a great base for you as well. Try this recipe out and let us know how you get on with your gluten free pancake recipe. Comment below and let everyone know how you get on or if you have a favourite pancake recipe to share with everyone.